Welcome to my 20 week program. This program is not just informational, it is also designed to be transformational. You should be proud of yourself for taking a big step towards investing in you! It's like they tell you when you are on a flight. If the plane goes down, you need to put your oxygen mask on first so you are able to help those around you. I have learned this the hard way over the years and how important it is to put techniques and practices into place for self-care.
When it comes to self-care, I have learned that it is so important to show up for myself, so that I not only show up for clients 100% but also for my husband and daughters. We are able to deeply reconnect with ourselves and with those around us when we take care of ourselves mentally, emotionally, and physically. We also become more authentic and have space for inspiration, clarity, and creativity.
Over the past 20 years I have learned, from working with clients and from my own personal experiences, that if we don't address our mental and emotional stress, it can show up on our physical body as chronic pain, weakness, dysfunctions, disease, etc. And on the flip side if we don't address taking care of our bodies physically with healthy movement, proper food, sleep, etc. it can affect our mental and emotional state. I briefly talk about these points on the ABC15 T.V. segment below.
I am so excited to teach you what I have learned over the past two decades and how it is all intertwined. Then give you the tools to address these different areas of your life in different ways. In this program, you will get out of it what you put in. Please follow the modules in order. There is a reason behind this formula I have put together.
Let's get started!
Assignment 1
Create 101 "Dream" list (aka the Bucket List)- This is a list of 101 things you want to 'do' 'be' or 'have' in this life. It seems that after we become adults, have kids, or in the corporate world of working, we forget to make it a point to do things that light us up! Maybe you have never allowed yourself to go down the road of thinking or writing out what you want.
Let me share with you some things I have marked off my dream list and why they actually happened.
For years I dreamed of taking an adult hip-hop class. I love the movement! I was a gymnast when I was younger and have been teaching yoga since 2004. I have watched my daughter dance for years. There is something about hip hop and lyrical dance that moves me excites me, and makes me feel like I want to move like that!
It wasn't until I went through a coaching program that I actually wrote out my dreams and desires for the first time. I started to verbalize the things on my list to my girls and husband in order to make them seem more real. Once I started verbalizing my dream to my oldest, who has been a dancer for years, she found me a beginner dance class. I had to follow through! I went all by myself, not knowing anyone in the class. It was SO MUCH FUN! I have been back 5 times now.
Another thing on my list was to hike Havasu Falls. It was something I had dreamed about for years and years, but it was not until I wrote it out and verbalized it that I finally went.
It seemed surreal when I was actually in The Grand Canyon staring at the waterfall for the first time. I had looked at pictures online and visualized myself there for years. I did it! I figured out a way to pay for it and arranged for my husband to be home with our girls for four days while I was gone. Where there is a will, there is away!
Through these experiences, I realized how powerful it is to write your dreams out, read them regularly, and verbalize them to those that will support you. I believe this is what made some of my own dream list items become a reality.
Your homework is to create your list. Don't hold back; nothing is too silly or crazy, don't worry about the judgment of others! Just start writing out those things that come to mind that you push out because you do not think you have the time, money, or resources to make it happen. If you have a hard time figuring out what to write down, think back to what you used to do in high school or college that made you excited. Sit still, close your eyes, and just start to daydream about what would make you happy and excited to wake up in the morning.
As part of your homework, I want you to share the top 5 things on your list in my FB group as well as with five people who you know will support you.
***After each module, please send your homework to teresa@sirrinestudio.com ***
***After each module, please send your homework to teresa@sirrinestudio.com ***
Before you start
The Journey Ahead
Just a couple of things that will help you get the most out of this program. It is important to understand the stage of growth
Stages of Growth
Understanding what it takes to grow and become the person you need to become, in order to have the life you want to have, is incredibly important as you embark on this journey. Here you will find, a picture of the stages of growth and breakdown of each stage. 
Quote from Jim Rohn 
"If you want to have more, you have to become more. For things to change, you have to change. For things to get better, you have to become better. If you improve, everything else will improve for you. If you grow, your money, relationships, health, your business will grow and every external effect will mirror that growth in equal correlation."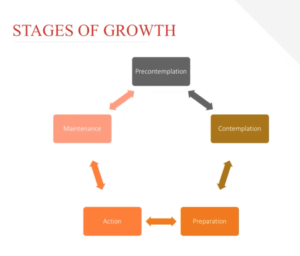 Pre-contemplation

No thoughts of changing

Uniformed, or under-formed

May have tried to change and it didn't work

Contemplation

Thinking about growing

No intention to grow, but thinking of pros and cons

Pros need to outweigh cons to move forward

Preparation

Made the decision to grow

Intention to take action

Gets the systems in place (i.e. this program)

Most people stop here-this is where most people get stuck. In this stage, you are going to have to face your fears, get out of your comfort zone and start doing things in a way you haven't before. This is where you have to show up fully to get the most out of this program. 

Action

The plan is put into motion

Measured success criteria (Goals)

The actions you take lead to growth, whether they go the way you want or not. 

Maintenance-having a coach(me) to help hold you accountable

Most difficult for many-don't fall back into old stagnant habits and old beliefs

New behaviors and mindsets much be permanently incorporated…THIS TAKES TIME, consistency and patience.
Set the intention NOW, that you can change if you put the time and work in. 
Henry Ford said, "If you believe you can or if you believe you can't, you're right".




Jack Canfield said "Awareness without risk-taking yields nothing. Awareness with risk-taking yield growth"
On the other side of your fears and comfort zone, is growth and sustainable change. So take the risk, take action, and do the work.
Before you read on I want you to say out loud 10x's "I am ready to change, I am ready to grow". This a form of an affirmation, which is a way to help start reprogramming your brain and eliminate negative self talk. We will go over affirmation in more depth later in the program and I will teach you how to use them to change different areas of your life.
For years I have heard my clients talk about where they want to be, but when it comes down to it some of them just don't want to do the work. So the fact that you signed up for this program and are willing to do the work shows that you are truly ready for big and sustainable change.
My journey has been a roller coaster with highs and lows and wondering at times how I was going to get out of the lows. It wasn't until I launched Sirrine Yoga Online that I was able to tell part of my journey of hardships. I felt very inspired to share it in hopes of helping other people that found themselves in a low valley. You can read my story in the module below.
Remember
We all have ups and downs and we all face fears and hardships, but those of us that have faith in the process and truly believe the life we want to live is just on the other side, always get it. NEVER lose faith and NEVER quit, and you will get there, too. 
My Story
It was the summer of 2007.  The saying "When it rains it pours" is an understatement when describing this period of my life.  It was the most challenging time in my marriage for several reasons.  I discovered I was pregnant with our third child (a complete surprise) at the same time my husband was laid off from his lucrative corporate position (our main source of income).  These challenges, we soon learned, were in fact a blessing in disguise. While a well-paying career presents stability, it comes with long hours and heightened stress.  My husband took this career shift as an opportunity to pursue a job he was passionate about.  Unfortunately, this shift also came with a significant pay cut.  We decided I would work more to make up the difference. As my husband took a leap of faith toward a new career, I too decided to further invest in something I was passionate about.  I decided this was the right time to create an LLC as Sirrine Studio.  To learn more about Sirrine Studio, go to www.sirrinestudio.com.  This enabled me to combine my two passions in life, massage, and yoga, to build a wellness studio.  This was always a dream of mine, but pursuing your dreams is no easy task. 

In the process of growing my business, we lost nearly everything, including our house and car. We filed for bankruptcy, relied on food stamps and government health care, and humbled ourselves to accept help from others.  Once we had these material things stripped away from us, I learned that it wasn't these things (what kind of car we drove, how big our house was, or what type of clothes I wore) that defined me. I had to dig down deep inside and find the strength to get through that difficult time.  I had to discover what qualities I have within me that enable me to persevere and adapt to change.  You really don't know what you are made of until you are put to the test in many areas of your life. There were times when my husband's attitude was far better than my own.  I remember him saying "Who cares if we lose our house. I don't care if we have to live in a cardboard box. As long as we have each other and stay together as a family that is all that matters". He was definitely my ROCK through those struggles and continues to be my support to allow me to make dreams become a reality. I often could not hold back the tears of gratitude for those who stepped up and helped us. We realized that this was merely a phase and something bigger and better was around the bend. At times it seemed like that was so far away and I had to keep relearning what the word patience meant. I continually worked at finding the little things in our lives to have gratitude for and stayed positive that we could get out of this extremely low valley we found ourselves in.
When our daughter arrived that fall, we received an amazing gift. She came into our lives when we needed her the most.  When seeking a middle name for our newest arrival, we gravitated toward "Sirrine" … it was peaceful in nature and was precisely what we needed in our lives at that time. Her spirit truly lives up to this name.  She is sweet, happy, and loving.  I could not imagine our family without the serenity and joy that she continually brings to us.  It is because I always want to be reminded of the "sunshine" that came out of the rain that I chose to also use her middle name as the name of my business. It is amazing to see where we are today and how truly blessed we are. I would not be able to see and appreciate this unless I had experienced what I have these past 6 years. My business is such an asset to our family. I had to be patient in the process of building it. I am fortunate to have assistance from others who saw my vision and were willing to trade services when times were tight to help build my business. We can now pay for all of our bills, groceries, dance classes, piano, and gymnastics on our own. Now, it is the year 2014. I decided it is time to make another dream of mine come true…to create online yoga classes. For years I have heard students that move away state "I cannot find another yoga instructor like you, especially one that explains alignment like you." I want the opportunity to be their instructor wherever they may be. In addition to this, I want to capture my love of the outdoors and real, everyday people in my videos (my students) to show how yoga is truly for every BODY. You simply need to know where to start and what it is you want to get out of yoga. Looking back at the series of events that happened in our lives, I whole-heartedly believe that everything happens for a reason. You may not see the reasons "why" when you are in that dark, deep tunnel with no glimpse of light. But there will come a time when you are able to realize that all of your struggles led to the place where you are now standing. I am forever grateful that my dreams are becoming a reality. It is my hope that I can continue to make a difference in the lives of others.
Homework
You first need to acknowledge that there are stages of growth. One of the stages is acknowledging your emotional and mental blocks. This is the part people are afraid of doing because it is hard to really look at where you are mentally, emotionally, and physically. You have to acknowledge where you are first so that you know what you are working with and have better insight into what steps need to be taken to get you to the person you want to become…to have the life you desire. These efforts to get you where you want to be can sometimes be scary and draining. Journal dumping is an exercise that will help you start to acknowledge where you might have some blocks mentally and emotionally. Now that your dream list is complete and you have read about the stages of growth, you are ready for journal dumping. Understanding where you are now is an important step to take to get you to where you know you want to be.
Journal dumping
We have to honestly acknowledge where we are mentally, emotionally, and physically before we can truly move forward and sustain change. It can be hard to realize where we are stuck, but this is where profound change can start to happen. If you know you have repeated emotions that come up that you feel are holding you back from moving forward in healthier ways in your life, then that means you need to figure out steps to get you to a better place. This is where journal dumping can be very helpful. It is a safe place for you to start releasing how you are feeling where there is no judgment and you can be unfiltered. 
How to start: I want you to use a separate notebook or journal for this activity. For 1-2 weeks, I want you to journal EVERY DAY in the morning or at night. I want you to try both times of the day to see what is most beneficial for you. It can help you clear your head at night so you sleep better. If you find yourself waking up with negativity, frustration, or just feeling BLAH, get it out so you can start your day releasing those negative thoughts and feelings to allow space for clarity, inspiration, and calm during the day. Pick a time of day that you can be by yourself to write for at least 10-20 minutes. For the journal dumping, I want you to just start writing. Don't overthink and don't be concerned with what someone else may think if they read it. This is for your eyes only and can be used as a guide for you to see if there are repeated emotions, feelings, thought patterns, etc. that keep coming up. Ones that you realize you just can't release. This will give you insight into what you want to address using the Emotion Code to help you release those emotions for good. We will be using the Emotion Code throughout the course as a tool to help you release what isn't serving you and to gain clarity and insight. To learn how it works and read some testimonials, you can read more here.